Program Model
Program Model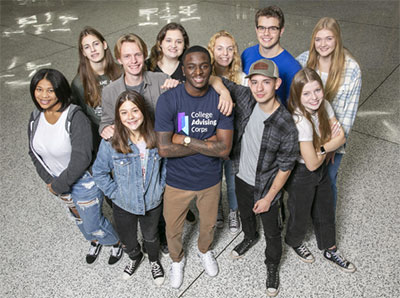 Appalachian College Advising Corps places well-trained, recent college graduates to serve as full-time college advisers in high schools throughout western North Carolina. Advisers work to foster a college-going culture within the schools they serve. They collaborate with administrators, support staff, and teachers to support students as they plan out their next steps after graduation.
Approach
Appalachian College Advising Corps advisers work to help students plan, prepare, apply, and pay for their post-secondary opportunities. Through working with the school's support staff on ACT/SAT support, FAFSA assistance, college applications, and scholarships our advisers become experts on college access.
Appalachian College Advising Corps defines college as any post-secondary pathway after graduation. Our advisers understand that many options are available to our students as they graduate, including bachelor degree and associate degree programs, and certificates, diplomas, and apprenticeship programs. We want to support students to find and achieve the best post-graduation pathway and opportunity that prepares students for success in their future careers.
Building Post-Secondary Plans
College advisers support students as they plan what they hope to do after they graduate high school. We work to support students in finding their own best pathway. Advisers help students identify postsecondary programs that are connected to their long-term plans and career goals and where our students can succeed. Then, they support students in identifying postsecondary programs that are a good match for their academic profile and a good fit for their financial and personal needs and interests. We want to help all students complete this sentence: "After high school, I want to engage in postsecondary learning at ______to learn how to ________ so that I might have the opportunity to _______ in my home community."
Adviser Services
Academic and extracurricular planning
Application support, including essays and balanced list-making
FAFSA, CSS Profile, and scholarship completion support
Admissions and financial aid award comparison and best-fit decision- making
Admissions and financial aid workshops
Group activities about college and life skills
Connections to postsecondary resources and opportunities
Standardized test preparation and registration
Family events
Near-Peer Model
Our advisers can connect to the students they serve through their own lived experiences. All of our advisers are recent college graduates and are closer in age, or and "near-peer," to the students they serve. Many of our advisers are first-generation college students, students from backgrounds underrepresented in college, and/or from western North Carolina. Our advisers can share current, real-world college knowledge with the students they serve.
Where we serve
Our work is built on strong partnerships, including those with Appalachian State University, College Advising Corps, AmeriCorps and VolunteerNC, and the schools and communities where our advisers serve.
School Partners
Alexander County,

Alexander Central High School

Alleghany County, Alleghany High School
Ashe County, Ashe County High School and Ashe Early College
Avery County, Avery County High School and Marjorie Williams Academy
Buncombe County, Erwin High School
Burke County, Freedom High School
Catawba County, St. Stephens High School
Cherokee County, Andrews High School and Hiwassee Dam High School
Clay County, Hayesville High School
Cleveland County, Cleveland County
Graham County, Robbinsville High School
Henderson County, North Henderson High School
Jackson County, Smoky Mountain High School
Macon County, Franklin High School
Madison County, Madison High School
McDowell County, McDowell High School
Mitchell County, Mitchell High School
Rutherford County, R-S Central High School
Swain County, Swain County High School
Transylvania County, Brevard High School
Wilkes County, Wilkes Central High School
Watauga County, Watauga High School
Yancey County, Mountain Heritage High School