Upward Bound is doing good things, not only for the students they serve, but for families and the High Country Community as a whole.
During the Upward Bound summer program, students participate in community service activities including multiple trips to a local senior independent living community. Students interact with the residents, play games with them, and provide company and companionship during their visits.
The students may not know how special it is to give of their time and presence to aging people, but it does make a difference. For example, one Upward Bound student, Jared Vasquez stood out to new resident Joan Mackey, who got the impression "anyone who is in Upward Bound is someone who is interested in helping others". Joan and Jared developed a rapport playing BINGO as he helped and engaged with the residents there. It seemed to Joan that he gained confidence over time, and their interactions expanded to an exchange. She learned about his family, goals, and dreams. Not only did the students' presence increase engagement, Joan felt good because she could give some advice. She had not been around high school students much but was impressed with Jared's "quiet drive".
"I learned a lot from him. He is a brave young man. I saw how much having a dream can guide one's life. Mixed with all that ambition to go to school is a big heart. I could see how much he wants to help his family. Upward Bound will help the students be upwardly mobile," said Joan Mackey.
"Interacting with the seniors there was a special thing. Everyone there had a story to tell about their pasts and especially Joan. She would tell me about what her children were doing and how she had raised them. I would also tell her about my experiences growing up and tell her about my mom. Joan told me how she admired my mom just based on what I've told her," said Jared Vasquez reflecting on his time engaging with Joan during the Upward Bound Summer Program.
After learning more about his family, Joan gave Jared a necklace to give to his mother. From there, he shared a photograph of his mother with the gift, and the women met virtually via FaceTime. Later, Joan received a candle and thank you card from Rebecca, Jared's mother.
"I would like to thank Joan for the necklace and for being such an inspiring person despite not even meeting her in person. She's a wonderful person, and I'm glad I was able to get to know her," said Rebecca.
Joan states, "I will always be glad I met Jared and know he will grow up to be a fine man".
Reflecting on the experience, Jared remarked, "Joan taught me that I should value life a lot more, and that I should value my own mom and dad even more."
Small exchanges can make a big difference in the lives of others. The warmth and giving reflected in this exchange shows that we can all make a difference in the lives of others.
Thank you to Karee Mackey for contributing to this week's post. Karee is the GEAR UP Coordinator in Ashe County and the daughter of Joan Mackey who is highlighted in this Feature.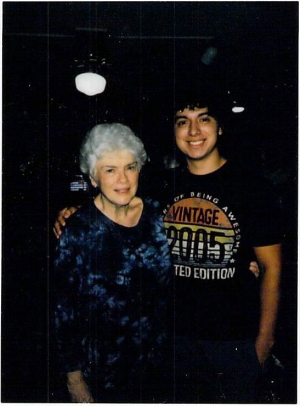 Tags: