Congratulations to the Appalachian State Upward Bound Scholars' Bowl teams that participated the in the NC TRIO State Student Initiative Competition earlier this month at NC State University. One of the teams placed third in the overall state competition!
Third Place Team Members- Brandon Cabrera, Lucero Escobar, Syla Ervin, Chase Miller,Raffell Vasquez-Gutierrez, Noelia Sanchez, and Coach Megan Helton
Team Members-Coach Raquela Pablo, Brenda Sebrian, Jonathan Arenas, Edna, Vasquez, Matias Martin- Andres, and Alex Novotny
We are excited to announce that App State Upward Bound won the very first NC TRIO STEM Bridge Building competition! The bridge held 125 pounds of weight and could of held more but the competition officials ran out of weights! The team will particpate in the regional competition on Saturday, April 22 in Atlanta.
Team Members-Imri Walters, Anahy Reyes -Calderon, Harlyn Painter, and Coach Yannia Nordello.
All of these teams served as outstanding representatives of the Appalachian State Upward Bound Program!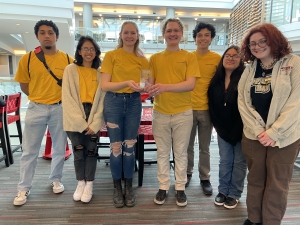 Tags: