All systems go. T-minus 10, 9, 8, 7, 6, 5, 4, 3, ignition 2, 1. We have liftoff on the Appalachian State GEAR UP Partnership's Family Design Night. Across our nation, trends of decreasing parental and family involvement in schools have been documented and researched since the 1960's. Correlation between socioeconomic status and parental voice in the education system is one of many historic issues brought back to the forefront of school communities' concerns during the recent pandemic. In response, with a focus on bridging the gaps of communication and involvement, as well as reestablishing community, the Appalachian State GEAR UP Partnership's Academic Innovation Team, led by Doug Thompson, developed Family Design Nights; a hands-on, interactive experience for our Title 1 middle school families that surpassed the barriers of the pandemic in both schools and homes.
Centered around STEM and inquiry-based opportunities for our scholars, Family Design Night (FDN) began as an in-home virtual experience for students and families. Bringing together the family around the dinner table nostalgia was the premise of the idea. Research conducted by our Research and Evaluation team, led by Dr. Jui-Teng Li, unveiled the data connected to the positive correlation between family engagement with STEM activities and experiences with the establishment and nourishment of pathways to future careers in STEM. FDN is an evening event which allows families to participate in STEM challenges with their scholars. With activities aligned to academic standards in middle grades math, ELA, science and social studies, thematic challenges expose scholars to ideas such as The Space Race, The Physics of Sound, The Printing Press, and Adventures on the High Seas, to name a few, in a safe environment to foster trial and error, while building awareness of STEM career opportunities.
As we evolve and improve, so do our number of participants. Each month brings more awareness of the needs in our districts to engage in meaningful family moments and challenges with district participation increasing by over 500% from the start of the program through now. Looking towards the future, the program continues to grow and evolve in both curricular development and engagement opportunities, focusing on open-ended challenges that stretch our scholars' creativity, ingenuity, and passion for learning. Through its fifteen months of implementation, FDN may be considered just one small step for after school initiatives; however, for families in Western North Carolina, FDN has been a leap towards increased family involvement and awareness of STEM and its accessibility for all.
Written by Rachel Nave-Lewis, Appalachian GEAR UP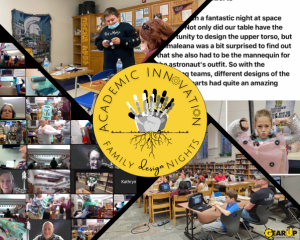 Tags: