Each year, GEAR UP programs across the country celebrate National GEAR UP Week. From September 25-29, 2023, thousands of students, families, school personnel, and college access professionals will celebrate their achievements towards helping students pursue a postsecondary degree.
"As I contemplate the profound impact of GEAR UP, I am deeply moved by the unwavering commitment, exemplary service, and tireless efforts exhibited by the dedicated GEAR UP staff across our network of partners. During National GEAR UP Week, I celebrate them and the remarkable milestones they have reached in empowering students to define their aspirations and turn their dreams of pursuing postsecondary education into reality," said Corinne Smith, Director of Appalachian GEAR UP.
Appalachian GEAR UP currently serves approximately 15,000 7th, 8th, 9th, and 10th grade students in 10 participating school districts across western North Carolina and provides college-going programming to students and families, academic support in schools, professional development for teachers and administrators, and more. Partnering with eight external higher education institutions allows even more support and opportunities within the school systems. These partnerships provide students access to campus visits, summer camps, guaranteed admissions programs, seminars, tutoring, and additional resources.
Photo caption: Appalachian GEAR UP staff members celebrate successes during National GEAR UP Week.
One recent program launched by higher education partner A-B Tech for Madison Early College High School students is called College Readiness 360°. The program is a brainchild of A-B Tech GEAR UP Coordinator, Debra Rodriguez and A-B Tech GEAR UP director, Dr. Fairley Patton.
"In my first few months as GEAR UP Coordinator, I listened to feedback from numerous stakeholders in the Madison and A-B Tech communities. Reviewing that feedback with A-B Tech GEAR UP director, Dr. Fairley Patton, we saw an opportunity to address specific needs of incoming high school freshmen who are enrolling in college classes for the first time," says Rodriguez.
The two-week seminar they developed is a guided, practice-based course simulation delivered face-to-face and hosted inMoodle. Students practice skills and competencies related to the most basic functions inherently required by their college coursework, specifically focusing on skills related to Navigating Online Platforms and Communication in the College Setting.
Debra viewed the program as a huge success citing, "The inaugural delivery of College Readiness 360° was met with overwhelming satisfaction from MECHS staff as well as A-B Tech staff working with Madison students. I am so optimistic about the ways we may apply and develop College Readiness 360° in semesters to come."
Photo caption: AB-Tech GEAR UP Coordinator, Debra Rodriguez leads the College Readiness 360° seminar at Madison Early College High School
Another recent GEAR UP initiative involves a partnership with Participate Learning. The Global Leaders Framework provides a structure that integrates into existing school priorities and provides training and resources for educators and administrators to enhance each school's ability to prepare students for the jobs of tomorrow.
Tonia Walsh, principal at Robbinsville Middle School and Global Leaders participant remarked, "On behalf of the entire staff, I can confidently state that we are fully committed to dedicating ourselves to this endeavor, viewing it as a pivotal moment in our instructional approach. We believe that the integration of the Global Leadership principles will significantly enhance student engagement, foster curiosity, and spur proactive measures. Consequently, we anticipate a notable increase in student motivation and proficiency. We eagerly await the transformation that this initiative will bring to Robbinsville Middle School."
Photo caption: Teachers at Robbinsville Middle School attend the Global Leaders seminar in partnership with Participate Learning.
Connecting with families is another vital component of GEAR UP. One program that has expanded over recent years is Family Design Night. Centered around STEM and inquiry-based opportunities for GEAR UP scholars, Family Design Night (FDN) began as an in-home virtual experience for students and families. The 2023-2024 FDNs will focus on coding and developing code through hands-on activities.
GEAR UP Academic Innovation Specialist, Brittany Brady said, "I am thrilled to help students, families, and schools connect in such a creative way that enhances partnerships and strengthens relationships of all stakeholders."
Over the past grant year cycle (September 2022-September 2023), Appalachian GEAR UP provided 250,813 hours of service, an equivalent of approximately 29 years. This consisted of college visits, mentoring, academic advising, career counseling, educational field trips, job shadowing, workshops, homework assistance, and more. Over the course of the upcoming academic year, Appalachian GEAR UP will continue working to ensure each student has the access and resources available to achieve their dreams of pursuing postsecondary education.
To learn more about Appalachian GEAR UP, College Access Partnerships, and other programs that support student success in the High Country, visit gocollege.appstate.edu.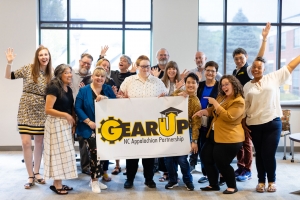 Tags: